Digital Video Editing with XOS Digital Course
Learn the Digital Video Editing Software over 400 Sports Teams Use
Video is the most useful tool for football and hockey coaches at all levels. When you learn Digital Video Editing with XOS technology in our 8-week online course, you will have a skill teams need to thrive in today's sports environment.
NEXT START
DATE
December
2

Weekly Live Audio Chats
with Mike Stoeber

Tuesdays: 5 pm PST/8pm EST

Weekly Live Audio Chats with Troy Johns (Hockey focus)

Wednesdays: 6 pm PST/9pm EST

Class size limited to 15 Students

8-week online course
Access to the SMWW Network
Resume Enhancement
Career Advice for
Years to Come
Why You Should Take Our Digital Video Editing with XOS Digital Course
Analytics has become all the rage in sports, but the art of compiling new-age statistics into decision making philosophy all starts with video.

Scouting is most an essential part of player acquisition and development, but the art of evaluating players at all levels starts with video.

Sports revolve around video, it is the greatest singular technological advancement in the industry's history. And while video isn't new, technologies like XOS Digital continue to push the powers of video in new and exciting directions.

Over 400 teams in the NFL, NHL, NCAA, MLS, English Premier League, and more use XOS Digital as their primary tool for video and statistical analysis. To learn XOS Digital in our exclusive course will put you on the fast track of your sports career.

Our Digital Video Editing with XOS Digital course is for you if you want to pursue a sports career in the following capacities:
Video & Technology Department
Video Coordinator
Coaching
Scouting
Player Development
Player Personnel
Director of Scouting
Assistant General Manager
General Manager
What You Can Expect From Our Digital Video Editing with XOS Digital Course:
When hiring, teams, and leagues search for people with the exact skills they need. For each job opening, they have hundreds of resumes submitted, but they don't go through everyone by hand, instead, they do simple searches for specific terms like XOS Digital.

As their list of matching resumes gets smaller and smaller, then they start to go through the resumes with closer detail.

Our Digital Video Editing with XOS Digital will train you in the skill teams are looking for and align your resume with team needs. At the end of this course, you will have a highly marketable skill, which very few others have.

"Learning the technology that teams use in scouting and analysis, like XOS digital, prepares people to immediately go to professional and college teams with the skill set they need," says course mentor Mike Stoeber. "When you know how to use the technology to create the results teams want, immediately you are head and shoulders above the competition."

Individuals will learn:
(Note this course focuses on American football and hockey but techniques and software are used in all sports.)
XOS Thunder
Recruiting with digital video editing tools
Scouting with digital video editing tools
Methods to evaluate players with XOS technology
Sharing analytics and information with scouts & coaches
Become more adept with reports and grades of players via XOS Technology
Prepare for practice with XOS technology
How to start or advance a career with XOS technology.

You will learn the techniques that the NHL, minor hockey leagues, NFL, CFL, and NCAA teams use daily to operate at their best. XOS Digital provides the tools that coaches, scouts, and players need to be ready on game day, and in the development of their team and organization.

Over 400 teams in professional and collegiate sports use XOS Digital and this is the only training program available. Teams use XOS Digital to:
Recruit and Scout - XOS provides front offices with a secure means of collaborating and sharing critical information. Draft and recruiting boards, player evaluations, salary cap, free agency, or any other player personnel data are all organized and shared securely.
Coach – Utilizing XOS professional-grade video with analytical and reporting tools coaches spend less time searching for clips and more time doing what they do best, coaching.

Coaches don't man the XOS technology. Personnel directors don't ingest and cut up the video clips. The video and technology department does, and this is what we are training you for.

Even better, think of how prepared you will be to grow into a role as a Director of Player Personnel, or a Coach or a Scout. You'll have the knowledge and the ability to do it all. Plus, when you work in the Video department you are rubbing elbows with executives, coaches, and scouts all day long – what a great way to learn how to advance your career!
Meet Your Course Mentors
Mike Stoeber - Jacksonville Jaguars Asst. Director of Football Technologies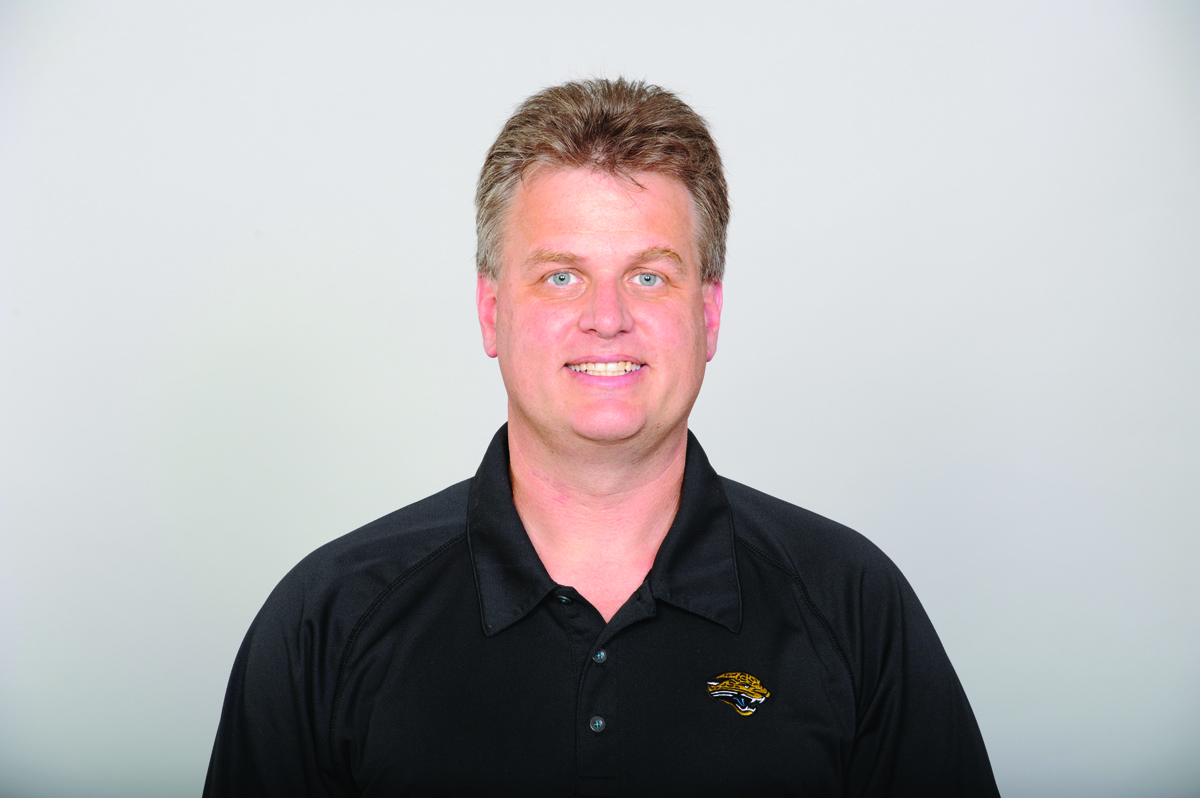 As the Jacksonville Jaguars Assistant Director of Football Technologies, Mike Stoeber is an expert in the field of digital video editing with XOS Digital. Prior to joining the Jaguars, Stoeber was the Senior Field Support Representative at XOS Digital, working daily with teams to help them implement the technology into their scouting and coaching departments.

Stoeber's football career began at the University of Florida where he was Director of Football Operations and Director of Game Analysis. He also has a Master's degree from the University of Florida in Sports Administration. Stoeber has his finger on the pulse of the industry and is well aware of what teams are hiring and what they are looking for. He is perfectly suited to teach you.
Troy Johns, XOS Digital Technology Specialist
Troy started at XOS Digital in 2011 as a field support representative and has worked his way up as a Technical Support Representative, Technical Account Manager, Game Day Assistant and Instant Replay Technician since then. Troy has an abundance of hockey knowledge in XOS technology. His weekly chats will focus on using XOS Thunder at the NHL level.
Dr. G. Lynn Lashbrook

Dr. G. Lynn Lashbrook, President, and Founder of Sports Management Worldwide, the world leader in online sports business management education. Dr. Lashbrook has outstanding academic qualifications, and over thirty-five years of combined experience as an educator, coach, athletic administrator, and a registered agent.
Dr. Lashbrook manages the SMWW Agency representing over 200 Agents and hundreds of athletes worldwide. Dr. Lashbrook has hands-on experience and active interaction with team and club manager's, scouts, sports business executives including major endorsements, player contracts, sponsorships, and all SMWW Sports Agency activities. Because he is still in the industry, his teaching is up-to-the-minute and addresses the issues in professional sports today. Dr. Lashbrook emphasizes integrity and ethics in his curriculum and weekly interactive audio chats. You will love his motivational style and passion to improve the sports management industry.
Why Learning Video Technology is the Skill You Need to Stand out From the Crowd
All year long coaches and players at all levels study video. They watch opponents to discover weaknesses and design game plans. They study prospects to determine their value in an upcoming draft or recruiting season. They self-scout their own players during practice to fix mistakes and compliment achievements.
Video is the most useful tool for coaches and personnel executives at all levels, and the vast majority of teams use XOS Digital for their video needs.
At SMWW, we offer the only XOS training course available of its kind!
Led by Mike Stoeber, Jacksonville Jaguars Assistant Director of Football Technologies andTroy Johns, XOS Hockey expert, this 8-week online course will put you on the road to a sports career in video technology.
Unlike most online classes, we focus our program on audio chats and tactical implementations while directly in contact with your course mentors, which allows you the opportunity to build personal relationships and rapport with these successful leaders in the world of digital video editing. After completing our Digital Video Editing course, we will help you redesign your resume to highlight your new skills and include that you have been taught first-hand by Mike Stoeber and Troy Johns.
Now that is powerful!
Professional and collegiate teams across the globe need experts in video technology now more than ever. Our Digital Video Editing with XOS Digital course will put you on the radar of professional and collegiate sports teams and leagues across the country.
Course Details
Career Guidance, Strategy and Interview Techniques: Each Digital Video Editing-XOS student will be active during the course in learning how to obtain a position in the sports field, including the unique opportunity offered through XOS Technologies. This will vary for each student based on their career goals and location but SMWW's goal is to assist you in learning how to obtain a position once you finish the course. From whom to contact, the methods for contacting them and interviewing techniques, the course give you the ins and outs and gets you on your way to a dream job in sports. The instructors for the course will work with each student one-on-one and provide a strategy that will help them reach their sports career goals.
Weekly Audio Chats: A unique aspect of each 8-week course is the opportunity for students to participate weekly in interactive audio chats with Jacksonville Jaguars Mike Stoeber, fellow students, instructor, and renowned guest speakers. This is a tremendous opportunity to network within the course and get to know your instructors and fellow students personally via the internet. Our online chats work on any computer with internet access and a microphone (we provide the microphone). The connections and synergies via the audio chats will be sports networks that you will utilize Throughout your career.
Online Education: This innovative academic course is facilitated through a web-based educational delivery system. You will enjoy the online discussion boards, weekly readings, weekly quizzes, course projects, and interaction amongst fellow sports business-minded students and faculty. All course materials and textbooks are included in the course fee.
Global Participation: SMWW students participate from over 162 countries. Courses have an international influence and instructors will cater assignments to specific countries or leagues. Countries with economic challenges are eligible for economic discounts.
Military Discount: For those individuals who represent their country in military service we offer a discount. Please contact info@smww.com if you are active, reserve, or a retired member of your countries military system. Thank you for serving your country! (Please include what country and specific part of the military.)
For more information on the Military Discount Click Here
Tax Write Off: (For USA Citizens) SMWW course tuition, books and supplies can be used for education tax credits. Save your receipts and consult with your tax advisor on how this applies to you.
Sports Career Conferences: Throughout the year, Sports Management Worldwide hosts Sports Career Conferences at a variety of sporting events. These are fabulous networking events that put SMWW Alumni in the heart of the action. Opportunities to meet Head Coaches, GM's, Chief Executives, Player Personnel, Scouts, and fellow Sports Agents are facilitated. Visit SMWW Sports Career Conferences to learn more.
Further Benefits of our Digital Video Editing With XOS Digital Course
Course Certificate & Resume Reference:
Successful graduates of Sports Management Worldwide's Digital Video Editing With XOS Digital Course will be sent an SMWW Certificate of Accomplishment. This certificate represents not only your achievements in the course but also demonstrates your personal commitment to self-improvement and ability to self-train yourself for higher positions within the sports business industry.

In addition to your certificate, you will be given the stamp of approval by SMWW. This approval includes a personal reference you may add to your resume with contact information for Dr. Lynn Lashbrook and a personal reference from Mike Stoeber and Troy Johns.
Resume Redesign Service
Acquiring the skills necessary for your dream sports career is only part of the employment story. Even with the required skill set you still have to market yourself properly in order to attract the attention of sports industry employers.
At SMWW, we'll teach you the skills you need to thrive AND help you redesign your resume for optimal impact in the sports industry. We'll help you craft a resume to include your new skills, credentials, and references and optimize it to reach hiring managers searching online.
We want you to be the next SMWW success story and we go to great lengths to help you get there!
Teams are hiring video staff now, learning XOS Digital will put your resume on top of the pile!
Career Guidance, Strategy and Interview Techniques
Each Digital Video Editing with XOS student will work one-on-one with course mentors to create a strategy to help them reach their career goals. From who you should contact, methods of contacting them, interview techniques and more, our course mentors want to help you start your dream career in the sports industry.
Cost: $1,450
(includes all course textbooks, headset, microphone and access to web based classroom. Shipping additional.)
Payment plans available (as little as $495 a month).
See if you are eligible for an
economic discount
based on your country of residence.
6 months free financing via PayPal for those who qualify and pay for the course in full.
Length: 8 Weeks; "Live" audio online chats weekly with renowned instructors!
Prerequisites: Must be 18 or older to participate and have a passion for sports
Payment: Visa, MasterCard, American Express, Discover, Enroute, JCB, Diner's Club
CALL TODAY: 1-877-SMWW-NOW
(In the UK: 087 12884799)
SMWW's Industry Leading Courses Featured In: