Virtual Internship Program (VIP) 
At Sports Management Worldwide we recognize that every student is different. Over our two decades as the leading training platform for sports career-minded individuals, we've learned that many talented people have conflicts or challenges that prevent them from fulfilling a traditional, on-site, internship program as part of their college requirements.
We don't think someone's life challenges should prevent them from learning, growing and gaining career-altering experience. That is why we created our 100% online Virtual Internship Program which allows students to meet graduation requirements while staying in their current environment.
The Virtual Internship Program is:
Offered Spring, Summer, Fall and Winter terms
Allows for flexible start and finish dates
Available from any computer
Tailored to undergraduate college students aspiring to launch a career in sports management, sports leadership, and/or sports business
Individually customized to the student's career path and goals
At SMWW, we know what sports employers expect from their new hires, it is our goal to train all of our VIP's in the fundamental business principles that employers demand. 
VIP participants will train in: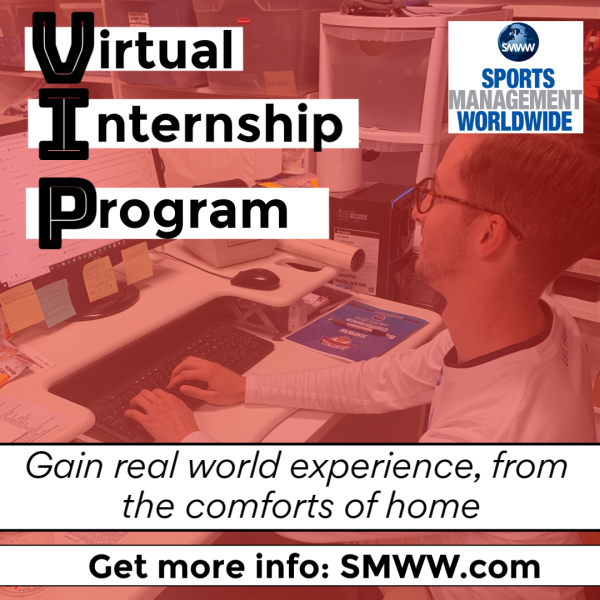 Grassroots management
Marketing
Ticket sales
Sponsorship
Personnel
Player operations
Customer service
Public relations
Promotions 
Event management 
Highlights of the Virtual Internship Program include:
Live interactive audio chats with top sports executives
VIP's will participate in weekly interactive audio chats with fellow students, sports executives and renowned guest speakers in the sports business field.
Informational Interviews and Job Shadows
SMWW will assist VIP participants in securing face-to-face live informational interviews and job shadows with top sports executives in their chosen career paths.
Attend a Career Conference at a major sports business event
Each VIP participant will choose to attend one of our Sports Career Conferences that aligns with their career path. SMWW Career Conferences are held at the NFL Combine, NBA Summer League Games, USC Convention/MLS Draft, NHL Draft, and Baseball Meetings.
Take two SMWW training courses
Each VIP participant is required to participate in a minimum of two SMWW online training courses. All SMWW training courses are 100% online and last 8-weeks. Courses can be taken concurrently or consecutively to meet their university time requirements.
Create an internship portfolio 
Portfolios will vary depending on the participant's desired career path but may include digital video editing samples, scouting reports, sports broadcasting audio resumes, public relations and new media projects, salary cap analysis work, athletic department and coaching assessments, game day management plans, etc.
---
How to participate in the Virtual Internship Program:
Anyone can participate in the SMWW Virtual Internship Program after having been approved by the students' university academic advisor. Students pay SMWW for this program. This is in addition to their university tuition. 
Keep in mind, the VIP program saves the student moving costs and living expenses incurred doing an onsite internship.
B.) Attend One SMWW Career Conference: 
Admissions into the conference would be at no charge for the VIP, however, all travel expenses are on their own (food, travel, lodging, etc). Options include:
C.) Complete a Post Graduation Career Placement Strategic Plan
Each VIP participant will create a strategic plan for post-graduation career placement. This includes building a professional portfolio for presentation to hiring personnel.
The portfolio will include a resume and cover letter with professional references made during the internship
The portfolio may or may not include scouting reports, audio resumes, digital video editing projects, agency research, sports capology analysis, marketing materials, game-day operation event plans, social media networking examples, etc.
The career placement plan will include actual job descriptions of entry-level jobs that the participant would be eligible
The career placement plan would include appropriate sports venues to apply.
The career placement plan will include appropriate networking associations to join
As part of completing this strategic plan, the student must prepare themselves for a job interview complete with attire and written answers to possible interview questions
VIP participant must submit a list of over 50 sports organizations they are qualified to apply with
The goal of the Career Placement Strategic Plan is to assist the student with the job hunt process and ultimately teach them to find a job.
Cost: $2,500
(Includes two SMWW courses and one SMWW Career Conference of the student's choice. Shipping additional.)
Payment plans available (as little as $895 a month).
See if you are eligible for an
economic discount
based on your country of residence.
6 months free financing via PayPal for those who qualify.
Length: 8 Weeks; "Live" audio online chats weekly with renowned instructors!
Prerequisites: Must be 18 or older to participate and have a passion for sports
Payment: Visa, MasterCard, American Express, Discover, Enroute, JCB, Diner's Club
CALL TODAY: 1-877-SMWW-NOW
(In the UK: 087 12884799)
Need More Information?
If you are interested in more information please contact Dr. Lynn Lashbrook via this form. Please indicate which University you are representing.
Who is Dr. Lashbrook?
Dr. Lashbrook is President and Founder of Sports Management Worldwide, the first-ever online sports career training company with a mission to educate and train future sports business executives. SMWW trains thousands of students every year for sports business careers from over 162 countries.
Dr. Lashbrook has been in sports management for over 40 years and has demonstrated a lifelong passion for helping students strategize and reach their career goals in the world of sports. Dr. Lashbrook has served at the collegiate level as an athletic academic advisor and athletic director. At the professional level, he has been an NFL sports agent for over twenty years representing over 100 NFL clients. Read More. 
Prefer a Traditional Internship?
Click here for more information