Our Staff and Faculty
(Portland, Oregon, United States)
Dr. Lashbrook is President and Founder of Sports Management Worldwide, the first ever online sports career training company with a mission to educate and train future sports business executives. SMWW trains thousands of students every year for sports business careers from over 140 countries.
Dr. Lashbrook has been in sports management for over 40 years and has demonstrated a lifelong passion for helping students strategize and reach their career goals in the world of sports. Dr. Lashbrook has served at the collegiate level as an athletic academic advisor and athletic director. At the professional level, he has been an NFL sports agent for over twenty years representing over 100 NFL clients.
Read more about Dr. Lashbrook here
(Portland, Oregon, United States)
A proud SMWW graduate, Nate Bigelow is currently the Tight Ends and Running Backs Coach at Southern Virginia University, a position he advanced to after previously working as the Tight Ends Coach and Video Coordinator at Snow College.
The Brigham Young graduate brings a unique perspective to teaching as he has completed both the SMWW Football GM and Scouting course and the Digital Video Editing with XOS course and applied it to the workplace as a position coach and video coordinator in college.

Mentor for Digital Video Editing with XOS
(Portland, Oregon, United States)

Jeff is Vice President of Operations of Sports Management Worldwide. Jeff joined SMWW in 2008 and achieved the status of Director of Basketball Operations in 2009. He became an NBA-certified agent in 2010. Jeff received his Bachelor of Science in Personal Finance from Oregon State University and his MBA at Marylhurst University. Combining his education and professional experience, Jeff has been in the finance industry for over 10 years.
Jeff is widely respected for his relational talents, communication skills and his proven ability to motivate, train, and mentor associates. In 2014, Jeff became an NFL certified agent.
(Las Vegas, Nevada, USA)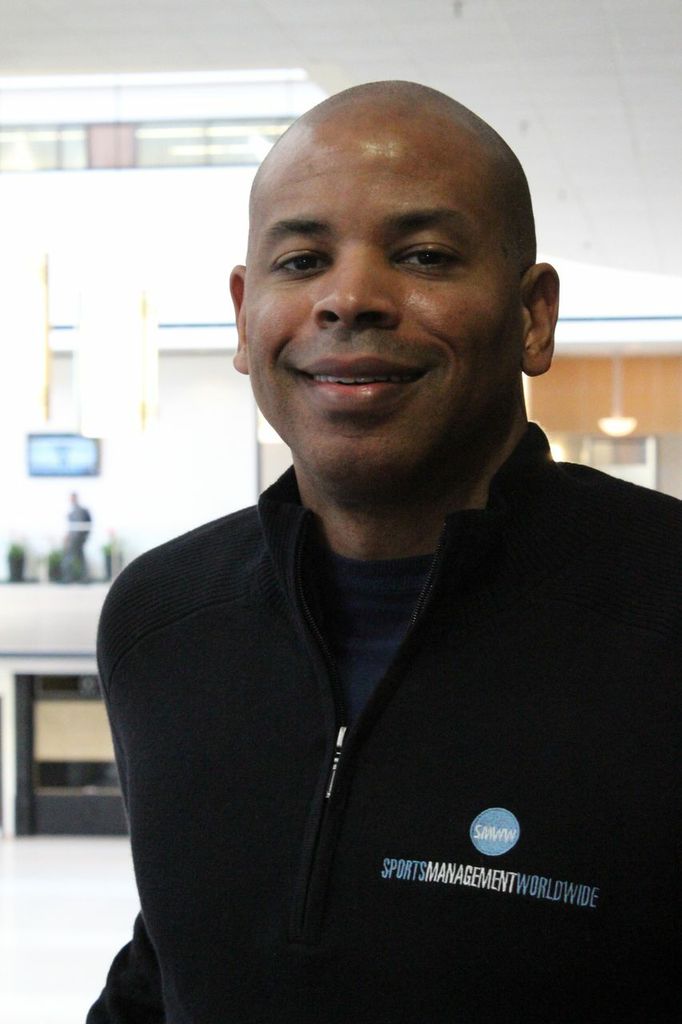 Joel was a Sports Agent for 16 years, representing NFL & NBA players. In 1992 at Management Plus Enterprises, who represented top-level athletes including Ronnie Lott, Hakeem Olajuwon, and Shaquille O'Neal. Joel left Management Plus in 1995 to co-found Premier Sports and Entertainment, which focused on representing NFL players, college and NFL coaches. He was the primary and co-negotiator of numerous NFL player contracts, including Hall of Famer John Randle's 5-year, $32.5 million contract with the Minnesota Vikings (1998), Patrick Surtain's 6-year, $44.63 million contract with the Kansas City Chiefs (2005), which made Patrick the highest paid player in the franchise's history. Randle's contract made him the NFL's highest-paid defensive player with unprecedented guarantees that have become the norm in the most lucrative NFL contracts. Other Premier clients included Pro Bowlers Eric Allen, Keenan McCardell and Jimmy Smith. Joel served as a consultant with Management Plus for several years after starting Premier. As a consultant, he played an integral part in the negotiation of Shaquille O'Neal's Los Angeles Lakers contracts ($120 million over 7 years & subsequent 3-year, $88.3 million extension).
In 2012, Joel became a contributing writer for the National Football Post. He uses his NFL salary cap and collective bargaining agreement knowledge to provide a perspective on player salaries, contract negotiations and the salary cap that is rarely seen in the media. In 2013, Joel began writing for CBSSports.com on similar topics, but for a larger audience. Joel also appears regularly on radio shows, including SiriusXM NFL Radio.
Mentor for Athlete Management - Sports Agent and Football Agent Certification Prep
(Tampa Bay, Florida, USA)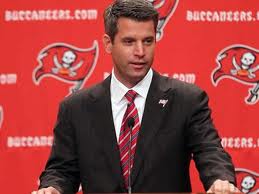 Mark Dominik joined the Tampa Bay Buccaneers staff at just 24 years old as a pro personnel assistant and worked his way up the ladder to General Manager while contributing to seven playoff teams and a Super Bowl championship. He developed the right skills to be hired and advance to the highest operations position, and now he's teaching them to people like you.
"We're going to talk about all the little steps you can take to become a scout or a general manager in the National Football League," says Dominik. "My mindset is to give you anything I can to help you find a way to distinguish yourself from anybody else." After leaving the Buccaneers in 2013, Dominik began working for ESPN as an analyst, adding a media perspective to his experience operating a team.
"I've seen a lot of ways people try to get openings or opportunities, I know what teams are looking for and I know what works and what doesn't," says the University of Kansas graduate. "The Football GM and Scouting course offered by SMWW, helps you learn how to get ahead, the right way. I think that I can help people break through a barrier that they weren't able to get through before."
In the Football GM and Scouting course, you will speak directly each week with Mark, an opportunity not many people get.
Mentor for Football GM & Scouting
(Boulder, Colorado, United States)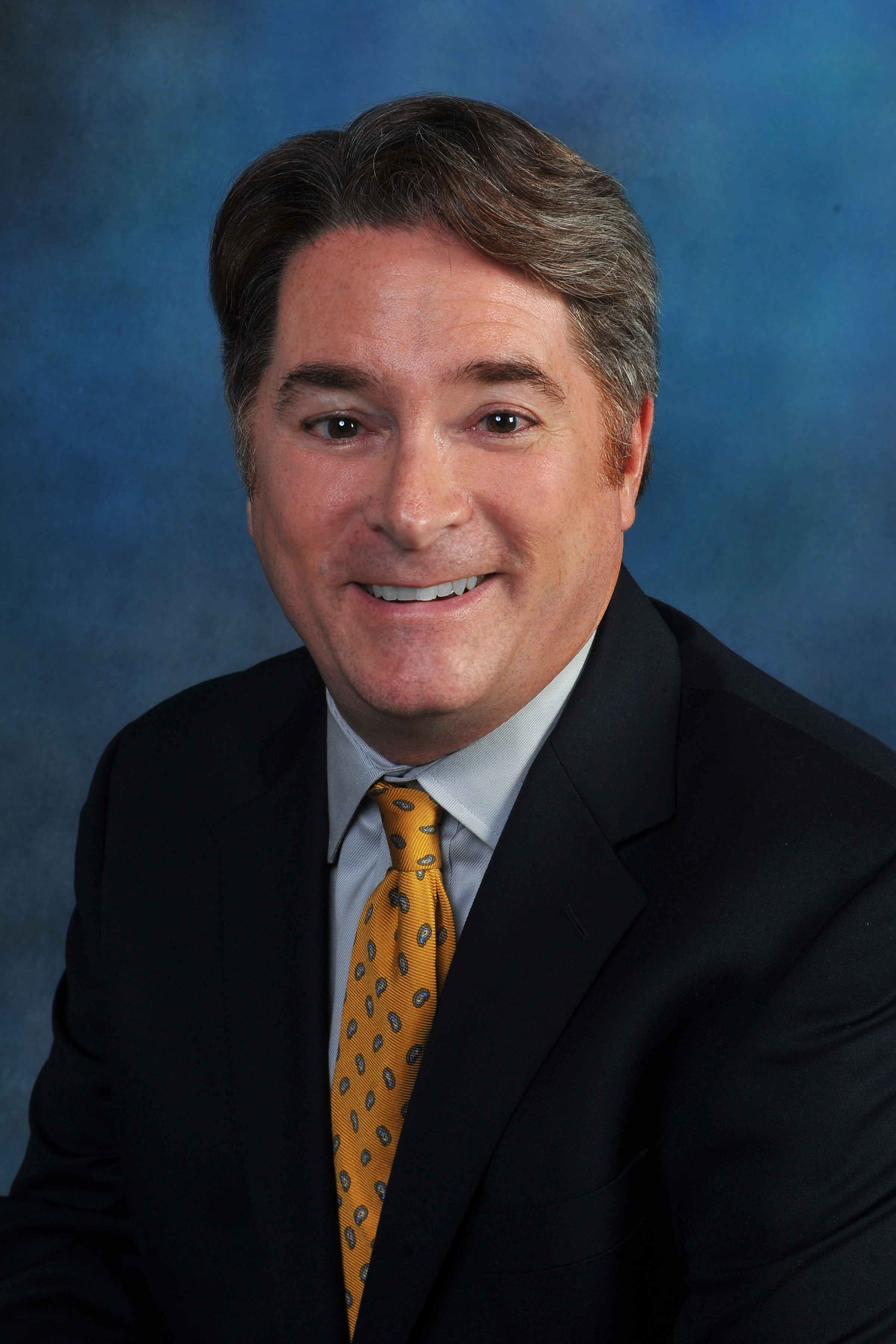 Dan Evans, former GM of the Los Angeles Dodgers, has been in professional baseball for over three decades and has had decision-making roles with five MLB franchises throughout his career. Including the White Sox (1981-2000), Chicago Cubs (2000-2001), Dodgers (2001-2004), Seattle Mariners (2004-2007), and the Toronto Blue Jays (2013-present). Evans' experience is wide-ranging, as he is the only former General Manager of an MLB club who also led a baseball agency. In addition, Evans has been a broadcast analyst for MLB games, is the author of "108 Stitches," a column for Baseball Prospectus, and is a member of the Baseball Prospectus Advisory Board. Evans also evaluates talent for the Toronto Blue Jays, overseeing their entire Pacific Rim operations.
In addition, Evans has been a broadcast analyst for MLB games, is the author of "108 Stitches," a column for Baseball Prospectus, and is a member of the Baseball Prospectus Advisory Board. Evans also evaluates talent for the Toronto Blue Jays, overseeing their entire Pacific Rim operations.

Mentor for Baseball GM & Scouting
(Boubonnais, Illinois, United States)
Bill Guertin is one of the top sales training authorities in North American professional sports, having worked with over 60 professional teams to dramatically increase their sales representative's performance and crush their sales goals. As President and CEO of sales and marketing consulting group, The 800-Pound Gorilla, his sales training has improved the operations of iconic sports franchises like the Boston Red Sox, Calgary Flames, Golden State Warriors and San Francisco Giants.
Bill is constantly in the front offices of professional teams, which helps him stay connected to who is hiring, what they need and how they hire. He is your secret weapon!
Bill's partners in success include:
NBA: Celtics, Nuggets, Warriors, Rockets, Grizzlies, Heat, Bucks, Timberwolves, Magic, Suns, Spurs, Wizards, Pistons
NFL: Falcons, Texans, Dolphins, Vikings, Jets, Panthers, Rams, Raiders
MLB: Braves, White Sox, Indians, Tigers, Astros, Brewers, Twins, A's, Pirates, Giants, Rays, Rangers, Nationals, Red Sox
NHL: Flames, Hurricanes, Avalanche, Kings, Flyers, Coyotes, Lightning, Capitals
MLS: Fire, Crew, DC United, FC Dallas, Dynamo, Galaxy
NASCAR: Daytona International Speedway and Talladega Superspeedway
Mentor for Sports Revenue Management
(Indianapolis, Indiana, United States)
Greg Hylton is the Indianapolis Colts Vice President of Premium
Seating and Ticket Sales. Greg has been with the Colts for over 18 years. Prior to VP, Greg served as Director of Ticket Sales and Marketing from 2001-05, Director of Ticket Sales from 1998-2000, and Group Sales Manager from 1997-1998. Greg holds a bachelor's degree in communications and psychology from Indiana University.
Prior to working with the Colts, Greg started with the Indiana Pacers from 1990-91 and with the Indianapolis Ice from 1991-97. Greg has worked his way up the ladder and is now excited to mentor passionate and hard working individuals to do the same.
Mentor for Sports Revenue Management
(Seattle, Washington, USA)

Dr. Jim Krause, President of Winning Sports Programs and Board Chairman of WSE International, brings a wealth of experience to anyone in coaching. Coach Krause has had a 25+ year coaching career with stops at every level, including top assistant coach and recruiting coordinator for the University of Oregon basketball team under Jim Haney. Dr. Krause's coaching experience has included basketball, football, softball, baseball and golf at the University level and basketball, men's and women's soccer and softball at High School.
Jim's diverse background as an athletic director, coach, and professional sports president, general manager, event coordinator and teacher enables him to guide and train you for any situation. If experience truly is the best teacher Dr. Jim Krause is your greatest asset in learning after having worked or consulted for: The University of Oregon, NABC Convention & NCAA Final Four, DGI (Sports Association of Denmark), 1996 Olympics, Alabama A&M University, University of Alabama, GM of the Huntsville Fire (professional sports team), Title IX Consultant, YMCA, and the NAIA National Office.
Dr. Krause has authored three books on the game of basketball including,Guardians of the Game, a Legacy of Leadership, and believes building championship programs is a process that can be learned and repeated regardless of sport or level.
Mentor for Coaching at the Next Level and Sports Administration
(Chicago, Illinois, United States)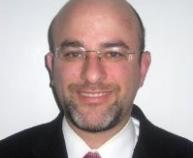 In the live interactive weekly audio chats, you will get to know Ari Kaplan. Ari is a leading figure in sports analytics, having worked with over half of all MLB organizations and many global sports media organizations. His baseball career spans 25 seasons, and Sports Illustrated named Ari "Top Ten General Manager Candidate". He received Caltech's "Alumni of the Decade" distinction for pioneering groundbreaking sabermetrics used to evaluate pitcher talent. Crain's Chicago Business also recognized Kaplan's work in business, baseball and humanitarian endeavors by including him in their annual "40 Under 40" cover story.
Kaplan is President of Scoutables with Fred Claire, the former World Champion Dodger GM. Scoutables has provided advance scouting and analytics to broadcast and online media and over half of all MLB organizations. In 2010, Cubs owner Tom Ricketts brought in Kaplan to create and lead the organization's analytics department. Kaplan's work included roster strategy, forecasting, advance scouting, player/coach game preparation, Minor League player development, draft analysis, international, arbitration, financial, budgeting, marketing, and community outreach. During his tenure, Kaplan led the in-house analytical and technical transformation. Taking this course will be similar to sitting in his office for one hour every week. An opportunity of a lifetime for baseball sabermetricians.
Ari is one of the few long-term baseball leaders with a proven track record at Fortune 500 companies, as well as successfully running several high-profile organizations as CEO or President. On the media front, Ari co-authored five best-selling books on analytics, databases, and baseball. Ari's work has been profiled on CNN, Chris Matthews, and the Today Show. One of Ari's high-profile analytics projects was turned into a documentary on the History Channel.
Mentor for Baseball Analytics
(Portland, Oregon, United States)

Adam is a native of Green Bay, Wisconsin, Adam Klimek is a graduate of University of Wisconsin-Green Bay (2000) with a degree in Business Administration with an emphasis in Marketing. Adam is a transplant to Portland, Oregon and was the GM of a restaurant and brewery in Gresham, Oregon for 10 years. Adam now works personally with NFL Agent Dr. Lynn Lashbrook, assisting him with recruiting NFL prospects. He also works with NBA agents Jeff Brodie and Brett Kanis in recruiting NBA and European basketball players. He works very hard at maintaining self-actualization that reflects a person with high moral, cultural and ethical standards. Adam offers assistance in contract negotiations, financial and investment services, income opportunities with appearances, and product endorsements.
Adam coached football for 10 years with the Green Bay Eastside Bulldogs. Currently, Adam is a Sports Career Counselor, helping people fulfill their sports dream job.
Learn More about SMWW Agency
(Chicago, Illinois, United States)
With over 20 years of scouting experience in the NFL, CFL and XFL, Russ Lande provides great perspective into the ins and outs of professional scouting.
Beginning his scouting career as a part-time unpaid recruiting intern with the UCLA Bruins at just 22 years old, Lande eventually got paid for his hard work, becoming a scouting administrator with the Los Angeles Rams in 1994. After four years with the Rams, Lande began delving into the publishing and media side of scouting, founding GM Jr. Scouting, crafting an annual NFL draft guide, consulting with CBS Sports and eventually writing for the Sporting News, National Football Post and Sports on Earth.
Lande spent four years as the Midwest Blesto scout with the Cleveland Browns and is now the U.S. College Scouting Director for the Montreal Alouettes.
When you take the Football GM and Scouting course, Lande will personally assist you with your scouting reports to ensure you are properly trained to meet the standards and qualifications of the NFL & CFL.
Mentor for Football GM & Scouting
(Portland, Oregon, United States)
One of the world's top middleweight athletes, Matt Lindland is a veteran of the UFC,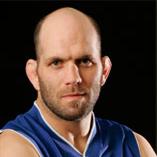 International Fight League, and Bodog Fight. Always willing to test his skills against MMA's elite fighters, Lindland, 20-5, has moved up from his natural weight class on multiple occasions, including a split-decision loss to former UFC light heavyweight champion Quinton Jackson and a bout with top-ranked heavyweight Fedor Emelianenko.
A silver medalist at the 2000 Olympic Games in Sydney, Australia, and again at the 2001 World Championships, Lindland attended the University of Nebraska on a wrestling scholarship. He is currently the head coach of the IFL's Portland Wolfpack, boasting a lineup replete with Team Quest fighters. Matt is also the coach of the USA Olympic Men's Greco Wrestling Team.
Matt co-owns Team Quest MMA Fitness Centers, with 5 West Coast locations. Team Quest embodies the principles of humility, perseverance, and sportsmanship, qualities Lindland and his partner Dan Henderson have cultivated during their tenure as amateur wrestlers and professional MMA fighters. Matt also owns SportFight, Oregon's first sanctioned MMA promotion. Lindland co-founded SportFight with Randy Couture in 2003 and was a leading advocate for the sanctioning of mixed martial arts in Oregon. He also owns the Dirty Boxer, the equipment and apparel brand, which features a proprietary compression-style groin protector.
Mentor for Mixed Martial Arts Management
(Portland, Oregon, United States)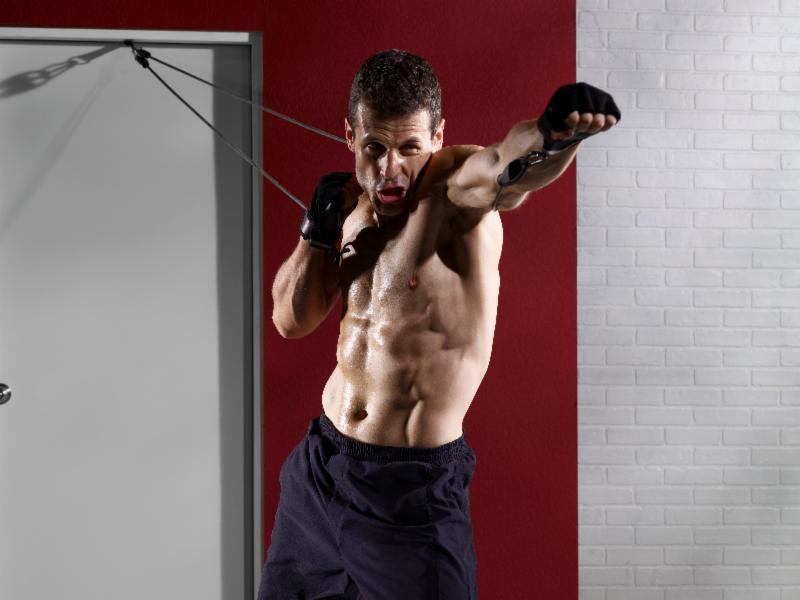 Scott McKendry has been a member at Team Quest since 2005 and is the GM for the Portland, Oregon location. Since the expansion of the Team Quest locations, Scott has helped develop and implement the Team Quest business systems and infrastructure to five new locations. Scott is also a graduate of the Team Quest Instructor's course and since then has gone on to help develop and teach the 200 level of the curriculum for that program.
Read this article about Scott in BreakingMuscle.com
Mentor for Mixed Martial Arts Management
(Seattle, Washington, USA)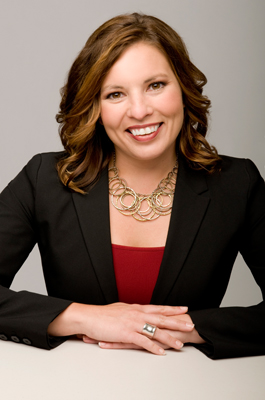 Jen Mueller pursued a career in sports broadcasting after repeated comments of "talks too much" from teachers and family members. A 14-year sports communications veteran, Jen currently serves as the sideline radio reporter for the Super Bowl Champion Seattle Seahawks. She is also part of the Seattle Mariners television broadcast team on ROOT Sports. In addition to her work on the sidelines, Jen launched Talk Sporty to Me in 2009 and teaches business professionals how to improve communication and leverage fandom in business. Jen published her first book Game Time: Learn to Talk Sports in 5 Minutes a Day for Business, last June. She graduated from Southern Methodist University in 2000 with degrees in Journalism and Public Policy. Her goal is to assist you in advancing your career by breaking down barriers to entry. Read more about Jen Here.
Mentor for Sports Media & Communications
(West Hartford, Connecticut, United States)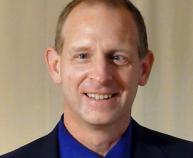 Dean is known as a pioneer in the analytics that helps govern many basketball teams, from the NBA to high school. His book, Basketball on Paper, was written at the same time as Moneyball and helped him to enter the NBA in 2004 as the first statistical consultant, working for the Seattle Supersonics. He has since worked with several other NBA teams' front offices and has been part of several very successful organizations. Dean went to ESPN during the 2011 NBA lockout, where he headed up the development of their sports analytics group, working on both basketball and football with on-air talent, producers, and executives at the company.
He earned a bachelor's degree in engineering at Caltech while playing on the basketball team. While serving as an Advanced Scout in college basketball, Oliver received his Ph.D. in environmental engineering at North Carolina and Stanford.Dean's work has been published in numerous places, is in regular use on television and radio, and he is often asked to give talks to business and educational groups. His book has been lauded by legendary basketball coach Dean Smith, and by sabermetrics pioneer, Bill James.
Mentor for Basketball Analytics
(London, England)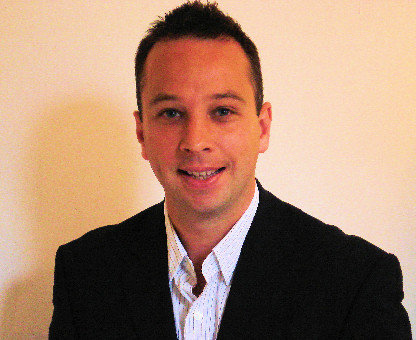 John Print is SMWW's Director of Soccer, registered intermediary with the English FA/USSF and a Licensed FIFA Players Agent for over 8 years. As an agent, John has represented clients at all professional levels in England, across Europe and the USA, including the EPL, MLS, and USL. In addition, John also works as a freelance soccer scout for professional teams in England providing opposition analysis and individual player assessments.
Besides working in soccer, John represents Olympic/Paralympic athletes and other sports personalities. Prior to working with SMWW, John worked with UK Sport within their International Relations and Drug-Free Sport Departments. He was also a partner with London-based sports agency, SIML before setting up his own agency called Sports Talent, which focused on promoting athletes with promotional and media projects. Highlights include proving talent for Global TV Commercials on behalf of Nike, Adidas, EA Sports, Pepsi and Castrol, and soccer talent for Timbaland's Worldwide No. 1 music video - "The Way I Are".
John has a tremendous understanding of what it takes to market a player at every level of the game. His combined scouting and agent experience with teams and clubs at all levels is unique and a huge asset for SMWW clients looking to play at the highest level.
Mentor for Athlete Management - Sports Agent, Rugby Business Management, and Soccer Agent
(Boston, Massachusetts, United States)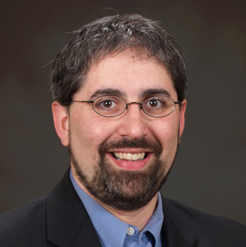 Aaron Schatz is the creator of Football Outsiders and most of the original statistical methods used in NFL analysis, as well as lead writer, editor, and statistician on the book series Football Outsiders Almanac. He also writes for ESPN.com and ESPN The Magazine and is the main analyst for the ESPN Fantasy Football Weekly podcast.
During the 2011 season, he was a regular panelist on the ESPN2 show Numbers Never* Lie. Before Football Outsiders, Aaron spent five years on the radio at WBRU Providence and WKRO Daytona Beach, and three years as the writer and producer of the Lycos 50, the Internet's foremost authority on the people, places, and things that are searched online. He has written for a number of publications including The New Republic, The New York Times, The Boston Globe, Slate, The American Prospect, and the Boston Phoenix.
Mentor for Football Analytics
(Boston, Massachusetts, USA)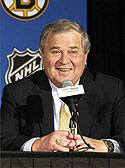 NHL Hall of Famer Harry Sinden is a living legend of the game of hockey, his name immortalized on the Stanley Cup twice, once as a coach of the 1970 Boston Bruins championship team, and again as an executive with the Bruins 2011 championship squad.
Over his 50 years as a coach, GM, President, and Senior Advisor to the Boston Bruins, Sinden was instrumental in leading the team to a North American major professional record 30 consecutive playoff appearances, which included five Stanley Cup finals. Before getting into coaching, Sinden was an accomplished player, winning the silver medal as a member of the Canadian national men's hockey team in the 1960 Winter Olympics.
To learn the inside game of hockey from someone as experienced as Harry Sinden is a chance unlike any other.
Students speak directly each week with Harry Sinden, and after successful completion of this course you can add him as a reference to your resume.
Mentor for Hockey GM & Scouting
(New York, NY, United States)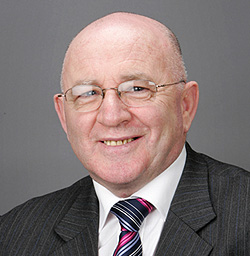 Irish-born Tommy Smyth joined ESPN in February 1993 as a soccer analyst for ESPN, ESPN2 and ESPN International. He is an anchor of ESPN Soccernet Press Pass, ESPN International's global football roundtable discussion and is a game analyst for Italian Serie 'A', La Liga, the UEFA Champions League and FIFA World Cup qualifying matches. Smyth's list of credentials is extensive. He has covered the 2010 FIFA World Cup, UEFA European Football Championship 2008 (Euro 08), worked on three other FIFA World Cups (1998, 2002 and '06) and the 1998 FIFA Men's World Cup in France. He also provided studio analysis for ESPN2's World Cup 2Night, and ESPN & ESPN2's pre-game and halftime coverage.
He co-hosted Latin Futbol Weekly on ESPN2, seen in more than 200 countries via ESPN International (1993-99). At ESPN, he has called over 2,500 international matches from all over the world, leading up to the 2002 World Cup he co-hosted ESPN International's "Road to World Cup 2002," aired in over 150 countries. Smyth has also provided game analysis for Major League Soccer's NY/NJ Metrostars as well as national MLS telecasts on ESPN and ESPN2. Smyth has also worked as an analyst for ESPN's coverage of MLS.
Mentor for Soccer Management & Scouting
(Phoenix, Arizona, United States)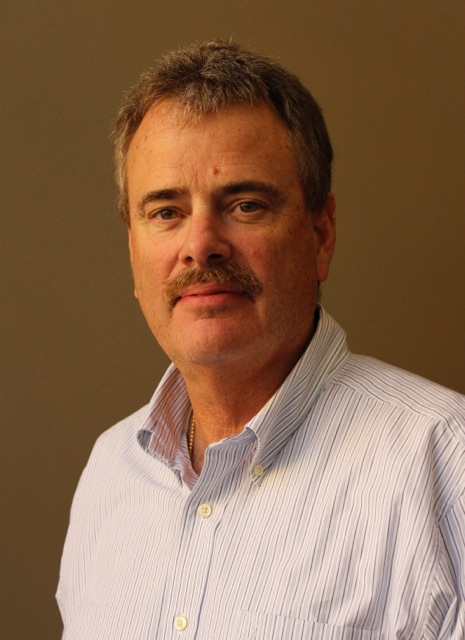 Oscar Suarez is an MLB Certified Agent with over 30 clients. Oscar's retired clients include Elmer Dessens, Juan Castro, Alberto Castillo, Tim Johnson (former MLB Manager), Howie Clark, John Bannister, Jailen Peguero, Arturo Lopez, Edwin Moreno, and more. He also represents a few superstars in Japan including Balvino Galvez, Leo Garcia, and Armando Reynoso - all of whom are retired. He has run Suarez & Associates for over 26 years representing clients mostly from Mexico and other Latin countries. Suarez has a Masters in Accounting from the University of Denver. A native of Havana, Cuba and raised in Puerto Rico, Suarez is fluent in Spanish.
Mentor for Athlete Management - Sports Agent
(Mount Ephraim, New Jersey, United States)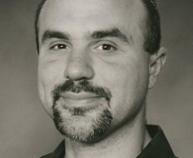 Mike Tanier taught mathematics in the New Jersey public school system for 17 years before embarking on a full-time sports-writing career.
Starting at Football Outsiders while still a teacher, he became the Sunday NFL preview writer for the New York Times, mixing stats and analysis with off-the-wall humor.
After several years at the Times, Tanier spent two years as the primary NFL writer for Sports on Earth. He's now an NFL Lead Writer for Bleacher Report, sometime Football Outsiders contributor, author of two sports books, father of two, and America's poet laureate of Jay Cutler jokes.
Mentor for Football Analytics
(Portland, Oregon, United States)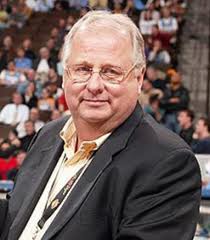 Mark Warkentien is the New York Knicks Director of Player Personnel.
With over 35 years' experience working in basketball, including his current position of Director of Player Personnel for the New York Knicks, Mark Warkentien is one of the most respected executives in the NBA. Prior to the Knicks, Warkentien was the General Manager of the Denver Nuggets where he was named NBA Executive of the Year in 2009 for his work helping the Nuggets reach the Western Conference Finals.
Warkentien has held other executive positions with the Cleveland Cavaliers, where he was Director of Player Personnel and interim GM for the latter half of the 2004-05 season, and the Portland Trail Blazers, where over a ten-year period he was a Scout, Director of Scouting, Assistant GM and Director of Player Personnel. His career in the NBA started as a scout with the Seattle Supersonics in 1991.
Before the jump to the NBA Warkentien had a very successful career in college basketball, coaching several Southern California college basketball teams before joining the staff of UNLV as an assistant coach under the legendary Jerry Tarkanian. During his time with the Running Rebels the team advanced to the NCAA Elite Eight four times, the Final Four three times and won the 1990 NCAA Championship.
Warkentien graduated with his Sports Leadership Master's degree in May 2014 from Concordia University Chicago, a partnership program with Sports Management Worldwide and is currently enrolled in the Doctorate program.
Mentor for Basketball GM & Scouting
(Portland, Oregon, USA)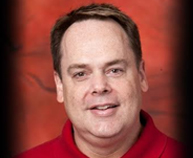 Longtime radio play by play voice Brian Wheeler of the Portland Trail Blazers brings his expertise and enthusiasm for sports broadcasting to this one of a kind course. Wheeler's exciting style and trademark "BOOM-CHAKA-LAKA" dunk calls have endeared him to basketball fans throughout the Pacific Northwest.
The 2007 Oregon Sportscaster of the Year, Wheeler has been active in sports broadcasting since calling play by play soccer, women's softball and basketball at his alma mater, Loyola University Chicago.
After Loyola, Wheeler jumped to the big time, including radio stints with the Chicago White Sox, Northwestern University, SportsChannel, Chicago Bulls, Sacramento Kings, Sacramento Monarchs and Seattle Supersonics, before settling in Portland with the Trail Blazers.
Wheeler has an extensive network of contacts and unparalleled experience in sports broadcasting having worked in so many regions of the country and for so many professional teams.
Listen to a sample of Brian Wheeler's Play by Play of the Portland Trail Blazers vs. Dallas Mavericks in a playoffs game.
Mentor for Sports Broadcasting